Want to get out but don't want to spend the dough? There is plenty to do in Arlington, Texas without opening your wallet.
Spring Break? Long weekend? Summer time? It doesn't take long for the kids to start with the "Mom, I'm bored" chant or to get tired of the same ole, same ole. But paying for activities every day can get expensive – quick. Why should you spend money when you have so many things available to you without making an investment? And maybe you can learn something, too!
Here are our suggestions for FREE things to do with the kids in Arlington, Texas.
Did you know that Arlington has over 90 parks? Yes, you read that right ninety. With amenities ranging from playgrounds, walking trails, ponds, skate parks, splash pads, tennis courts, volleyball nets, disc golf, and more. Visit the website to search for parks based on location, activities, and amenities.
Park recommendation: The River Legacy Living Science Center is a 12,000-square-foot nature center that provides environmental education programs and features interactive environmental exhibits, aquariums and terrariums with native animals, and nature trails.
Founders Plaza, 100 W. Abram St.
The Levitt Pavilion, located in downtown Arlington, offers 50 free concerts a year. And all of their concerts are family friendly. Food and drinks can be brought into any of the free concerts (but no glass containers). Bring a blanket or lawn chairs to sit on and enjoy music at the outdoor pavilion. Dogs are also welcome to attend as long as they stay on their leash. There is a summer and fall concert season.
The Arlington Public Libraries offer a variety of storytimes aimed at different age groups across the cities public library branches. Starting from birth there is a story time for you, there is even a monthly Family Story Time which is for all ages to enjoy.
The Arlington Public Libraries also offer a wide variety of other activities for children, teens, and adults including homework help, book clubs, and Tech Week.
Follow along to see the progress on Arlington's new downtown library which will open in 2018.
Fine Arts Building, 502 S. Cooper St.
Exhibitions are open Monday-Saturday during the fall and spring semesters and by appointment during the summer. The gallery is closed during university holidays. All Gallery events are free and open to the public. Information on the gallery's current exhibition can be found on their website.
If you grew up in Arlington, The V and Caelum Moor have been on your radar for many years. You might have even seen both of those pieces in their original locations. If you are newer to the area make sure to check out the history behind these two public art pieces. If you're up for a public art scavenger hunt see if you can photograph yourself with each of the Star of Texas pieces located throughout the city as part of American Dream City project. And don't forget that there is new art everyday being added like "Unity Arch" that was just installed in early winter 2017.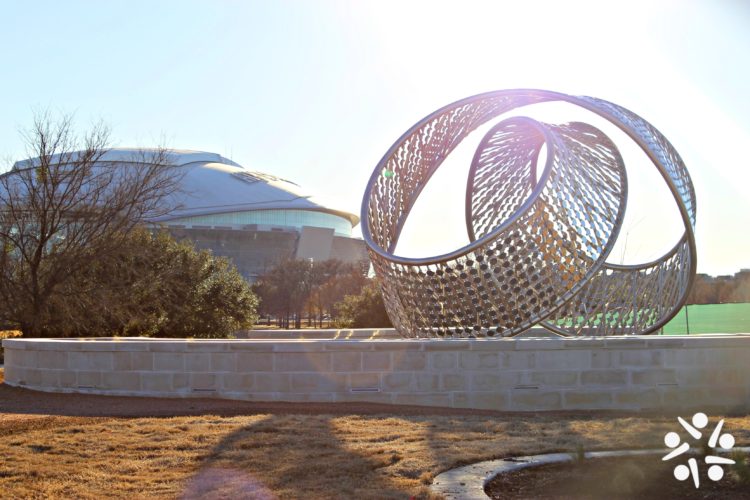 What things do you do for fun for free in Arlington?