In different times, we'd always suggest experience Arlington on your own.
Once you've been here you'll know why so many people call Arlington home and 14 million people visit each year. But if you can't make the trip, there's still a way to discover why Arlington is called the "Dream City.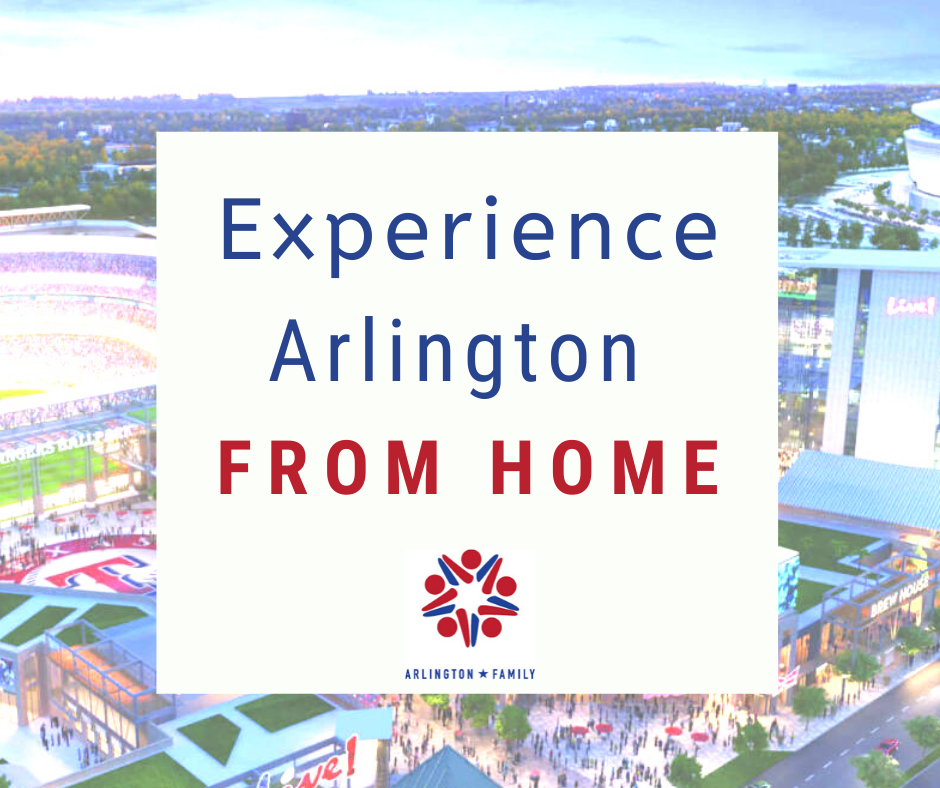 Ride the Coasters at Six Flags Over Texas
Is the couch not exactly the thrill-seeking adventure you'd hope? Of course it isn't, but thankfully THE source for thrills, Six Flags Over Texas has the next best thing to getting in line to ride the 200 ft. tall hypercoaster, Titan – take a ride on it with YouTube (no lines and no admission!) And that's not the only ride either.
and even my favorite water ride (sans water), Roaring Rapids. (If you need to feel the water, we suggest letting the kids splash some water on your face to make it feel real.)
Plus there's much more on the Six Flags Over Texas YouTube!
Explore River Legacy Living Center
Missing getting out on the trails or play at the park? Actually parks are still open to explore with good social distancing protocol in place, but if you're missing some of the amazing creatures at the beautiful River Legacy Living Center, then you can check in with your favorite on Facebook!
Discover Art at the Arlington Museum of Art
Arlington has a wonderful art museum although many people haven't had a chance to visit! However, through the help of technology, you can learn about some of the most amazing works of art, artists that made an impact on our culture, and even how to make your own with #AMACreate. From Pointillism to Frida Kahlo to Dali's clocks, these how-tos can be enjoyed by kids and adults alike.
Head to the Arlington Museum of Art for more activities!
Take a Tour of AT&T Stadium
Ok, who are we kidding? You came to Arlington so you probably wanted to see Jerry's World, aka AT&T Stadium, right? Even if you aren't a Dallas Cowboys fan (why not?) or even a fan of football, this place is rather out of this world (perhaps that's why it's often called the Deathstar (maybe that's just us!)
Either way normally, doing a tour or at least getting the required selfie, should be on everyone's list. Thankfully, the team at The Daytripper took their own behind-the-scenes look at the 3 million sq. ft. stadium and now you can, too.
Color Your Way Through the Entertainment District
Ok we know this isn't even the same thing…it would literally take weeks, maybe months to do everything there is to do in the Entertainment District. However thanks to the Arlington CVB, you can put your mark all over it through these coloring sheets. Color your world Arlington-style with downloadable coloring pages and other fun at-home activities you can find right here: ? https://bit.ly/3c4w0MY ?